Never in a  "I can't wait to do that!"  kind of a way,
but more of a,  "Ugh.  I really should get that done..." kind of way.
 We hear you.
 Hey — sometimes you have to do the hard stuff.  But we're here to help!
It helps you know if you have enough coverage. Whether it's Renter's or Home Owner's.. an inventory can let you know if your personal property coverage has you, well, covered.
It Saves SO MUCH TIME AND STRESS ! If there's a fire or burglary, a detailed list can make a world of difference when filing a claim.  Hopefully it will never be needed, but the peace of mind is priceless. If you have valuable items such as collectibles, antiques, firearms, or jewelry, the more detail you can provide, the better.
Speaking of claims – you'll remember the big items, but trust us – the little stuff adds up as well.  Shoes, clothing, collectables… it's all worth documenting to make sure you're properly reimbursed if something were to happen.
It will actually help you declutter! Once you start going though, you'll discover all kinds of items that no longer suit your life. We can feed two birds with one scone here and declutter while the Inventory is happening.  It's a two-fer!
Our Team of Organizing Ninjas are trained in the most effective way to Inventory so you don't have to worry about this tedious task! At the end of the process, you'll have a detailed list with photos to give you peace of mind and make life exponentially easier should you need to file a claim.
For your peace of mind, complete our form to start your Home Inventory conversation.
Download the Home Inventory Check List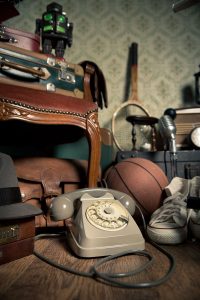 There's a known statistic that the average American household has approximately 300,000 items in it! (Count every fork, knife, plate, etc.) Every day we accumulate more and more "things"... and always much more than we eliminate.
Our "things" have value; sometimes sentimental, sometimes financial, sometimes both. For many reasons, it's important to know what we have.
Your Home Inventory will be a complete inventory of:
All Furniture
All Artwork
All Appliances
All Jewelry
All Books
All Electronic Devices
All Collector Items
Organized in a Digital & Physical Catalog
The inventory and catalog help provide peace of mind, knowing that you can prove what you had, in the event of any type of loss. It can also be used for insurance and estate planning, moving and storage, and cataloging collections.
The beauty of having an inventory is that, once you have it, maintaining it is easy and there's so much you can do with it. You'll know where things are. You can decide which items to donate ... or sell. Your senior parents can decide who will eventually get what, without having to walk through the house or even be there. They can also add stories about why they've acquired things. And you'll have peace of mind, knowing that nothing will "fall through the cracks."
Complete our form to start your conversation about your peace of mind and your home inventory.
Although the process can feel overwhelming, we are here to help. We carefully go Room by Room, starting by photographing all 4 walls, the ceiling and the floor. This gives us an overview of furniture, art, etc. Once we have the room overview, it's easy to zero in on items that need to be specifically photographed, and maybe even appraised! You can be telling the stories while we keep track of it all. You can then also add photos of the insides of closets and drawers, and collections of items. Think how much easier it will be to find things you're looking for ... or didn't even remember you had! Taking the photo with your phone automatically dates and time stamps each photo, proving the inventory isn't stale. You don't need to photograph every item, but getting a good overview with descriptions will make life a lot easier should you ever need to track it down.