Buying a new home is a taxing enough journey on its own. Throw in a global pandemic along with general holiday stress and you're sure to be looking at one chaotic move. There are many factors to consider when buying a home during the holidays. Organizing for the big day involves time management, financial planning, and finding properly trained relocation specialists. 
If you're looking for advice on how to navigate such an exciting life event in these unpredictable times, you've come to the right place.
Moving Management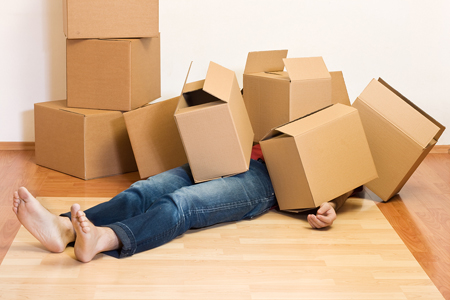 When considering how you plan to actually move your belongings from one place to another, you may face more difficulty than usual finding any sort of help. Around this time of year, a lot of people are busy with prepping for the holidays and many are seemingly still, and rightfully so, hesitant to assist in any capacity due to the COVID-19 pandemic. On top of relying on your often preoccupied friends and family, you most likely do not have access to the appropriate equipment needed for a big move. Renting moving equipment like a rental truck or dolly can prove to be a time-consuming headache as well. 
In order to alleviate some of that pressure, we recommend our pack and unpack service where you will be working with our trained relocation specialists to help declutter your home and carefully pack away your boxes into our provided boxes and packaging. Having a relocation specialist take some of this burden can be a big help. Using our service will let you focus on some other aspects of the move as you can be as or as little involved as you wish.
Organization and Time Management
Having proper moving management goes hand in hand with organization and time management. It's easy for some to toss aside any plan of action and dive headfirst into a project, but you will surely find yourself floundering without a proper plan in place. There are some often overlooked organizational tips that you will find helpful during your relocation. Here are some to prioritize throughout:
Taking the time to sit down and write out the goals you wish to accomplish is a great way to stay on task. Not only that but referring to the list will help you remember things much easier during this busy time.
With each goal you write on your to-do list, set a general time limit for each one. This gives you the ability to plan out the rest of your day and not spend too much time on one task. 
Give Yourself Space Between Tasks 
If you realize something is taking a bit longer than expected, give yourself some crucial small breaks in between tasks. Doing so will tremendously help you to succeed in completing tasks thoroughly while not eating up delegated time to other ones. The time in between will be a nice way to help you unwind as well.
Everyone's organization and planning processes are different. For some, waking up early and starting the day off strong comes easy. For others, they become more productive as the day goes on. Finding which hours you are most productive and using that to your advantage will help you get more done throughout the day.
If you feel as though there's too much on your plate to sufficiently plan out your time and organize your move properly, you can roll the fees for our pack and unpacking service into escrow and we will unpack and organize for you. As a financially viable option, it allows you to completely focus on prepping your home for the holidays while we take care of the move entirely. 
Financial Planning
Arguably one of the most important aspects of a move is the financial factor. Your funds may already be a little tight due to a loss of income because of the pandemic or you simply have budget restraints for the upcoming holiday season. Either way, a move can prove to be very pricey. What you individually factor into the price of your move will depend on your specific situation. Some finances to think about ahead of time include:
Furnishings for your new home

Repair, renovations, or maintenance

Upcoming bills

Cost of the move itself (gas, hotel stays, food, babysitter or pet sitter, etc.)
Try not to panic if you've already created your budget and you see some things you forgot to factor in. There are a handful of different financing options that may be available to you if you're a bit strapped for cash. If you're moving from one home to another you could have equity in your home in which case you may qualify for a home equity loan. This option can financially support you with starting a project in your new home, getting a larger or more convenient vehicle, or whatever else may reduce your stress during the move. 
If you are not moving from home to home or you have no equity in your home, you may also want to consider a personal loan from your local bank, credit union, or online lender. Getting a credit card or increasing your credit limit is always an option, but is usually not recommended as it is easy to find yourself racking up some solid debt with a high interest rate. 
During the holidays, everyone just wants to take that time to relax and unwind. Unfortunately, dealing with a move can drastically take away from that. But working smarter and not harder will give you the time back in your life to enjoy these moments with family and friends in a time when it is needed the most.